SD-WAN is a software-defined wide area network. Hughes offers architecture that manages the software-defined edge of network services, has centralized management and control, zero-touch provisioning and a single point adapting to the whole network dynamically.
It's the power of SD-WAN, with its layers of diverse, heterogeneous network, that enables your network with high-capacity links. Hughes has been able to harness that high capacity for growth in all of the enterprise applications that industry is witnessing ; from banks to insurance, retail, oil & gas and manufacturing. Ten to fifteen applications are hosted by each sector, with many of them on the cloud. Traffic patterns have changed and managing a WAN architecture is the challenge these sectors face. Hughes has risen to the modern networking challenge.
We are a bandwidth service provider that brings a strong SD-WAN portfolio along with other provisioning services. Distributed organizations face unique challenges when it comes to their networks. Branches can have vastly different broadband access types and infrastructures. This has enabled Hughes to have the infrastructure on the ground and harness it to provide an SD-WAN solution to the end-user. 
At HCIPL we are leveraging from global and adapting the local, in a fantastic ecosystem that India offers, to provide new SD-WAN services to enterprises in India.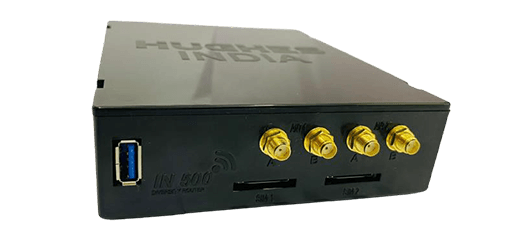 IN500 High Performance LTE SD-WAN CPE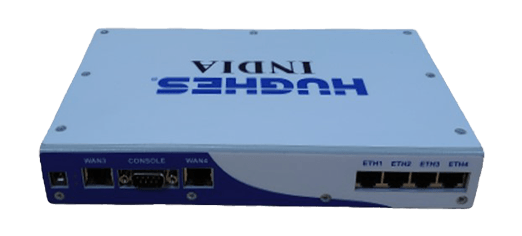 The New IN500X High Performance LTE-SD WAN CPE
Hughes has pioneered and progressed from 2G-to 3G -to 4G and LTE for enterprises.
Hughes included in 2022 Global Service Provider Carrier Managed SD WAN Leaderboard
This industry benchmark for multinational SD-WAN market presence ranks companies that hold a 4% or higher share of billable retail sites outside of their respective home countries. 
Hughes enters the LEADERBOARD in seventh position, moving up from the Challenge Tier.
Hughes SD-WAN Solution: Adding More Power to the Business 
HughesON is a suite of innovative, cloud-ready network and digital media solutions designed for the unique needs of distributed enterprises in industries such as manufacturing, retail, automobile, FMCG, white goods, financial services, banking and hospitality.
Benefits of Hughes SD-WAN Solution:
Network Resilience
Flexibility
Ease of Operation
Security
High-speed WAN Links
Why Hughes SD-WAN? 
Today's unique business needs an SD-WAN solution that measures up to deliver success. Here are the 8 fit points that helps to assess requirements and deliver an SD-WAN solution tailored for specific needs.
Agility and Flexibility – Ramp up cloud usage, scale bandwidth, spin up new environments. Run different configs at different sites. 
Security – Keep threat actors at bay without slowing down your team.
Cloud Access – From cloud acceleration to WAN optimization, we've got you covered.
Bandwidth and Costs – When comparing SD-WAN solutions, both underlay and overlay cost must be addressed.
Real-Time Applications – Don't put your business on hold because your network can't prioritize real-time apps.
Analytics and Visibility – With AI-driven operational tools, we deliver single pane-of-glass visibility across every layer of a network selected specifically for your needs.
Services and Support – Fully managed? DIY? Think carefully about the support you need.
Partnership Stack – We offer a wide range of SD-WAN solutions from best-in-class vendors, backed by the expertise to find the right solution for you.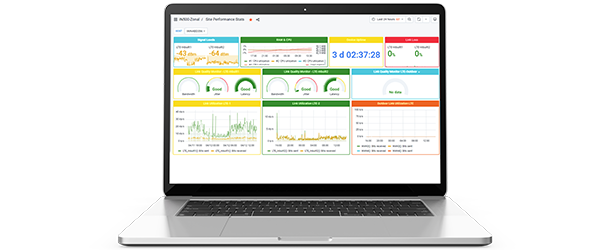 True SD-WAN Managed Services with Single Pane of Glass
Proactive Monitoring and Auto Call Ticket
Overall Network View with Single Pane of Glass
Customized SLA and Link Performance Report
Individual Site Details
HCI delivers managed Software-Defined Wide Area Network (SD-WAN) solutions with enterprise-grade service and security. Customers benefit from single "pane of glass" visibility into network, device and user visibility, enabling easy network configuration, change management and help desk support:
Single Pane of Glass Visibility and Manageability
Enhanced Visibility and Reporting
Granular view of the Site /  Link / Application / Device / Ports
Easily Customizable Reports
High Speed Transport Layer
Enterprise Grade Bonded High Speed and Inherently Secure LTE
High Throughput Satellite Services (HTS)
High Speed Internet Leaded Lines
Connectivity from Urban to Extremely Remote Customer Sites
Edge Device / SD-WAN
Feature, Rich, Scalable and Flexible
Low TCO Options
Multiple Customized Options for Different Requirements and Profile of Sites