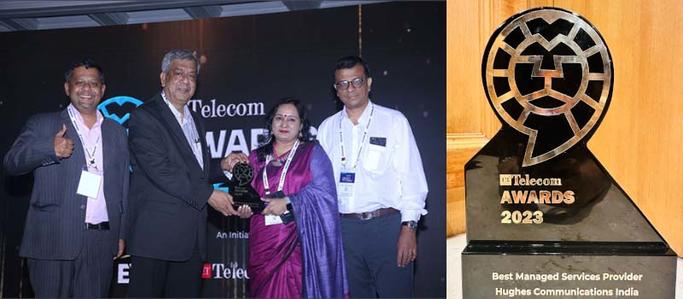 New Delhi [India], March 30 (ANI/BusinessWire India): At the ET Telecom Awards held recently, Hughes Communications India Private Limited (HCI), a leading provider of broadband satellite networks and managed services, was named the Best Managed Services Provider by The Economic Times , India's leading business and financial daily newspaper. The company earned recognition for its innovative "Made in India" products and solutions, exceptional service delivery, technical expertise , and customer-centric approach.
HCI empowers enterprise customers across industries, including oil and gas, education, healthcare, and government, with reliable and secure managed network services. Integrating diverse transports, such as LTE, cable, fiber and High-Throughput Satellite, HCI delivers managed Software-Defined Wide Area Network (SD-WAN) solutions with enterprise-grade service and security. Customers benefit from single "pane of glass" visibility into network, device and user visibility, enabling easy network configuration, change management and help desk support.
The ETTelecom.com Awards is an annual event organized by The Economic Times, India's leading business and financial daily. It brings together prominent stakeholders from the telecom and technology industry, including government dignitaries, industry experts, and corporate leaders. The third edition of the event was hosted to recognize and celebrate the best telecom products, programs, services, and innovations. The awards have become a benchmark for the industry, with winners being acknowledged for their innovation, leadership, and excellence in various categories.
This story is provided by BusinessWire India. ANI will not be responsible in any way for the content of this article. (ANI/BusinessWire India)