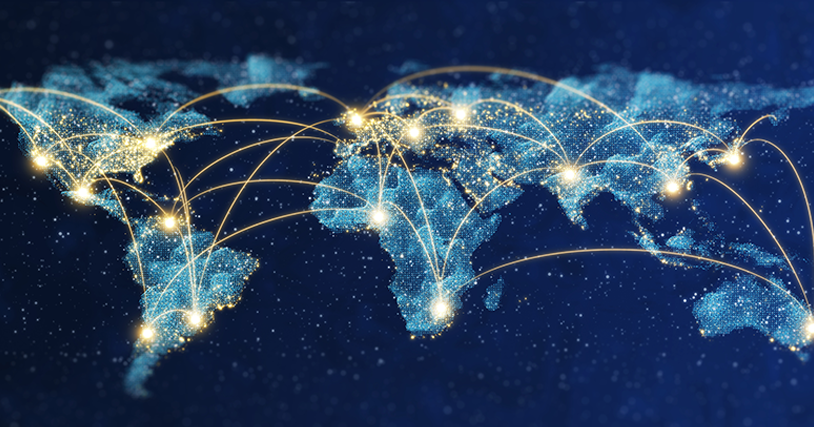 As technology innovators for over 50 years, the Hughes team is in the habit of looking ahead to the future. Imagining tomorrow's possibilities is not only a necessity for the business, but it's also in our DNA. So, when we asked Hughes leaders across the organization for predictions on the year ahead, they were eager to share.
Satellite consumer internet has woken up from being a "sleepy access of last resort," and now boasts faster speeds, increased data usage and more affordable pricing. New and innovative products, like our HughesNet Fusion™ plans, which combine satellite internet with wireless technology, will deliver revolutionary, low-latency home internet. Kartik Seshadri, vice president, International Markets

In 2023, we will start to see many rural areas have vastly improved broadband connectivity. As MNOs procure 5G spectrum licenses worldwide, they are obligated to provide LTE connectivity in rural areas. For example, auction winners providing 5G services is urban and suburban areas of Brazil, must also roll-out LTE/4G networks in all municipalities with a population of 600 or more people. Bhanu Durvasula, vice president, International
The low earth orbit (LEO) markets will grow exponentially, given there is very little service revenue today. We will see satellite technology gain prominence and even strategic importance for stakeholders around the globe, both politically and economically. And cellular backhaul services will be the biggest market for capacity. Vaibhav Magow, vice president, International Markets

LEO services have finally started to come online; they're not just bullets on a PowerPoint slide! Whether it is a big global constellation or a small one-off system, LEO services are starting to become available. As options and supply increase, prices could drop–although that will impact yields, margins and profitability. Randy Anders, vice president, Sales

Cybersecurity services will continue to become more prevalent as smaller companies realize the risk of ransomware and data loss. What was expected at large companies with edge device protection, backup, and advanced security will make its way down to the Small-to-Medium Enterprise (SME) market. As their IT and IoT environments become more complex, more companies will utilize Managed Service Providers (MSPs) to assist in the deployment, maintenance, and operation of their infrastructure. Dan Rasmussen, senior vice president/general manager, Enterprise Solutions. Discover additional insights and predictions for 2023 from three Hughes Enterprise leaders.

Managed Networks will increasingly incorporate satellite into the mix, especially LEOs, to expand connectivity options and the types of use cases that can be supported. For example, using LEO satellite service for connectivity to support network backup capabilities, private wireless networks, emergency communications and infrastructure monitoring in remote areas. Mike Tippets, vice president, Enterprise Marketing

Cloud frameworks and platforms for application development have the potential to be game changers. In traditional cloud computing frameworks, data travels from the device to the data center and back. Edge computing is a framework in which data is stored and processed close to the original device, to avoid latency, because data is processed right where it is generated. The push to edge computing will be driven by the explosion of IoT devices and 5G, as well as by AI/ML augmenting all business processes across various industries–including its increasingly important role in cybersecurity. Archana Gharpuray, vice president, Engineering

The entrance of LEO is going to force the industry to take on significantly different roles. Like a manufacturer who has to focus on the pollution their plant produces to create low-cost goods, satellite operators in a LEO world will need to invest not only in the launch of a craft but also in its afterlife. In addition, there is a whole new complex layer of tracking and navigating a web of satellites that never before impacted GEO satellite placement. Mark Wymer, senior vice president, Strategy & Distribution

We will get a better sense of how the new LEO constellations can be integrated with existing military networks, such as the Protected Tactical Enterprise Service running on the DoD's WGS constellation. We will also see more announcements of plans to launch 5G-ready constellations that can connect with 5G cellphones on the ground. Rick Lober, vice president/general manager, Defense and Intelligence Systems Division. Read a more in-depth analysis about the impact of LEO constellations on DOD applications.

The World Radiocommunication Conferences (WRC) will take place this coming year and address pivotal issues for the satellite industry. One is making more spectrum available for intersatellite links and for satellite networks in Ka band, Region 2 (the Americas). We will also see the topics of space sustainability and 3GPP standards―global standards for mobile broadband technologies―raised at this forum. Jennifer Manner, senior vice president, Regulatory Affairs
As the wide range of predictions show, there's a lot to look forward to in 2023! Perhaps that's why the resounding consensus is that it's an exciting time to be in the satellite industry and to be integral to the way millions around the world connect. And next year, based on these predictions (and the launch of our JUPITER™ 3 satellite), millions more will have the opportunity to connect in new ways and new places.