Hughes India at DEFCOM 2019
Indian Army's Corps of Signals conducts an International Conference cum Exposition on Military Communication biennially. DEFCOM 2019 was held on 26-27 Nov 19. The high-profile conference was addressed by Rajya Raskha Mantri, Chief of Army Staff, Defence Secretary and a host of industry leaders.
The theme of the seminar was "Communications as a Decisive Catalyst for Jointness". The theme gains relevance with the government's decision to appoint Chief of Defence Staff soon. Signal Officer-in-Chief indicated consolidation towards four major SATCOM networks viz. DCN, NFS, NEWN and AFNET networks. It is a matter of pride for Hughes that three out of four of these carry Hughes' technologies.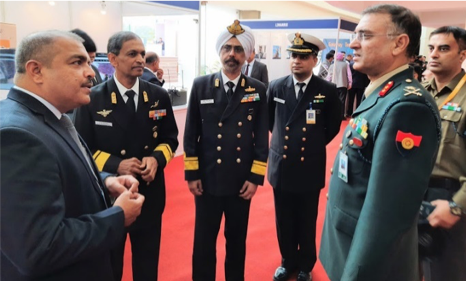 Hughes' booth at the event witnessed some good foot falls and attendance by many senior defence officers. Man-portable terminals, jamming resistant modems, helicopter terminals, as also, Jupiter solution drew interest. Seen below are Lieutenant General Rajeev Sabherwal, AVSM, VSM, Signal Officer-in-Chief and Colonel Commandant of the Corps of Signals and other senior officials from Ministry of Defence(MoD) and other government departments.
On