Hughes Communications: Revolutionizing Indian Maritime Industry
With a 7,500-km-long coastline, 13 major ports, and about 200 intermediate ports, at strategic locations, Indian Maritime sector is an at an advantageous position and is set to experience growth. Across the maritime industry, there is a growing trend towards IP-based applications and a need to stay connected with land-based operations.
For commercial ships, oil rigs and other business maritime users anywhere in the world, staying connected at sea is no longer an option: it's a necessity. Among other developments, Hughes was the first to receive the In-flight and maritime connectivity license...stronger and stable connectivity.
Gone are the days when a vessel would enter a country's territorial waters and disembark from port and unplug from the global communications network. Well, that was the case in India till very recently but with the Telecom ministry permitting Indian VSAT service providers to provide domestic and international maritime services, this is all set to change for the better.
Around the world currently, cruise liners, merchant ships, yachts, barges and off-shore platforms depend on broadband connectivity for everything; from crew welfare to navigation and weather monitoring to business operations. Those who take advantage of bandwidth at sea are realizing business benefits from cost savings, to crew retention, to operational efficiencies and much more.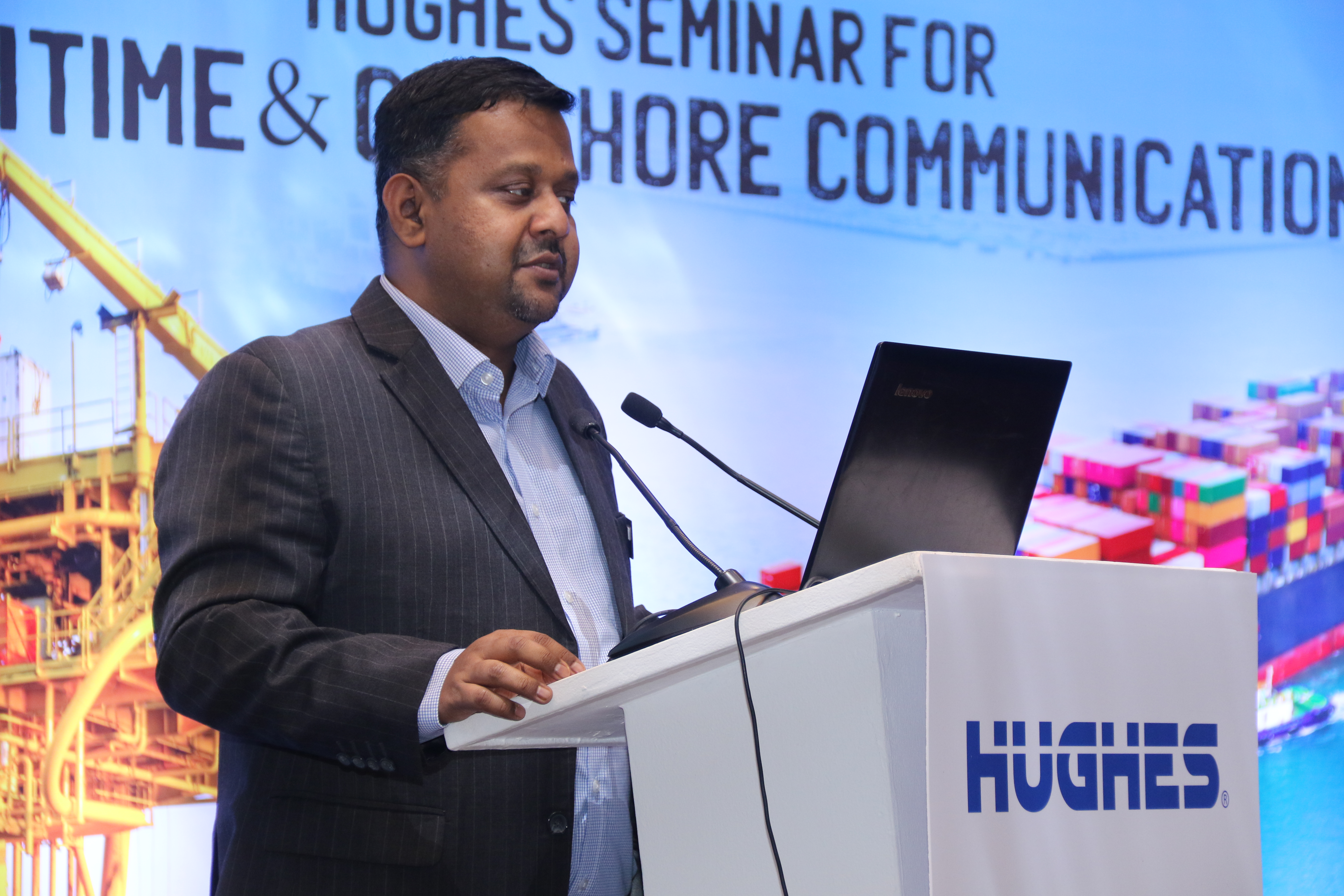 Hughes Communications India Private Limited, India's No. 1 VSAT service provider is the first service provider in India to obtain a Flight & Maritime Connectivity License to help you power a connected future at sea.
Hughes India delivers high-quality broadband and value-added services to Indian and international companies for commercial and leisure ships operating within Indian territory and beyond - in fact, to any ocean anywhere in the world. Our maritime network solutions utilize the latest in satcom technologies with a sharp focus on speed, reliability and security. Secure, cost-effective, high-speed communications utilize Hughes gateways in India and onboard terminal compatibility with all original equipment manufacturers. And our maritime solutions come with 99.5% network availability, industry leading engineering expertise and around the clock support.
Solutions by Hughes
Being a global leader in broadband satellite solutions and services with flexible bandwidth modeling, Hughes Maritime Broadband Services are built upon leadership as a major technology innovator and networking solutions provider, guaranteeing unlimited usage of a flat monthly rate for internet data and voice over IP.
Hughes provides an always on service with strong in-built engineering teams, proactive monitoring of all infrastructure and remote terminals, earth stations located through multiple service providers on fiber and Doppler compensation and automatic beam switching control for superior customer experience. It provides a comprehensive broadband satellite solution that withstands the extreme environments of ships, vessels, cruise liners, yachts and ferries to address the specific requirements of the maritime industry.
With a synergy among cutting-edge technologies on KU and C band, global satellite coverage for Indian and International waters , high-value addition with a special focus on cyber security and ready service infrastructure promising 99.5% network availability, 24x7 customer service support across time zones and geographies, Hughes is revolutionizing the Indian maritime sector.
Among these achievements, Hughes is the first company in India to receive the inflight and maritime connectivity license which is a natural extension of having been at the forefront of offering breakthrough technologies and services over the past two decades.
Moreover, Hughes is running a captive mobility network on its HX platform over TDMA and SCPC for satellite backhaul. It is also ensuring a secure and robust communication network with high data rate connectivity and providing on demand bandwidth requirements to help in smooth running of the operations for barges and diving vessels. HN/HX Systems are capable of transmitting IP multicast traffic originating at a remote site across a return channel to the NOC and is fully compliant with the global IPoS/DVB-S2 standard.
As India grows to be one of the major economies in the world, it will require innovative solutions, better infrastructure, connectivity and careful management systems to ensure its long-term sustainability in the maritime sector. In line, Hughes stands ready operationally to initiate high quality broadband services for maritime operators, having the availability of ubiquitous satellite coverage across Indian territorial waters, promising to herald a new era of communications for India.