Education
Hughes Communications: Leading India's E-learning Industry
Education has always been considered a key pillar in the growth, the well-being of a nation, and a real indicator of economic development. Even as India continues to make economic progress, the gap in access and quality of education continues to be a big challenge for policy-makers. Also, as India enjoys a young workforce, the sheer size of India's growing population poses a significant problem for India's education system. As technology continues to dominate our lives increasingly, its role in education is rightly being given a strong consideration to bridge the gap in access to quality education.
The rapid increase in internet connectivity has been an important catalyst for the growth of e-learning. The role of satellite broadband, typically VSAT (very-small-aperture terminal), is ideally suited to bridging this gap. With the advent of high throughput satellites (HTS) and advances in radio technology, the cost and reliability of satellite connectivity has made it an attractive option. Satellite broadband offers distinct advantages such as competitive cost; multicast capability; universal coverage; and low cost and simple installation.
Byjus's Aakash Selects Hughes Communications India to Connect Over 100 Education Centres using Satellite Broadband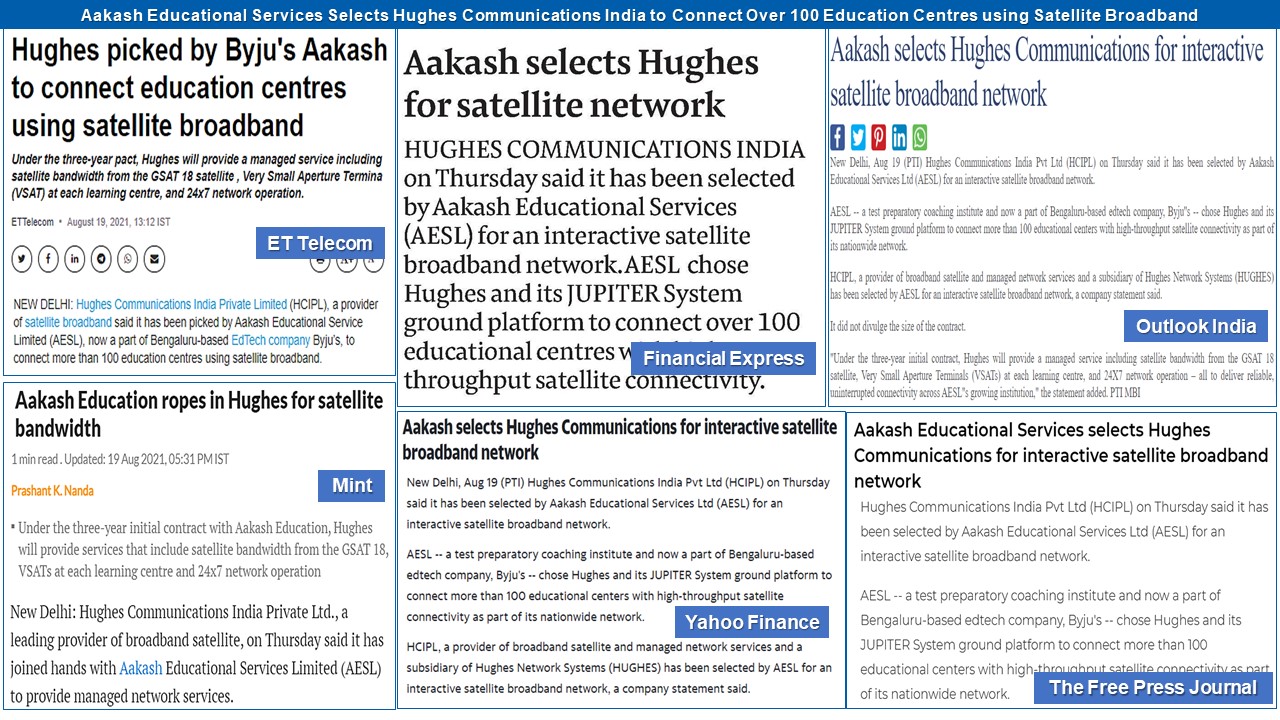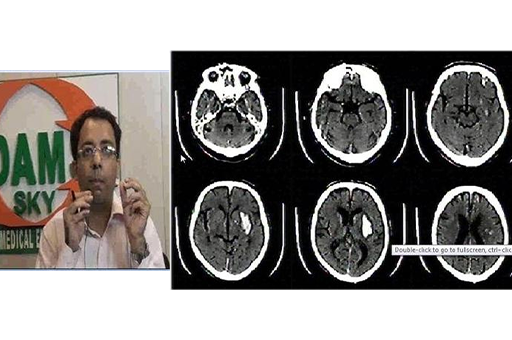 Hughes: Invested in E-learning
Hughes Communications India Private Limited (HCIPL), the global leader in VSAT and broadband satellite networks and services, sees a tremendous opportunity to connect and deliver satellite broadband across the country and is committed to bridging the quality education gap in India.
Leading the transformation of the E-learning industry in India, Hughes is delivering a real, value-based managed services program to its clients with cutting edge technologies like JUPITER system and HughesON and is building the next-gen skillset for India which will not only enable working professionals to meet the unique needs of distributed enterprises but bring greater cost efficiency to enterprise and businesses. As award recognition, Hughes also won The ET Telecom Awards 2017 for HughesON for High Availability Managed Wireless Optimized Network in the Broadband Product category.
Virtual Classrooms for Coaching
Currently, Hughes has been successfully running distance education courses in many states, connecting 1000+ classrooms and delivering digital coaching across subjects including Higher Education, CA, IAS, Medical, and Automobile training.  
Being a worldwide leader in satellite broadband business, Hughes is providing virtual classroom solutions to leading municipal corporations with across 480 classrooms in the West, providing Smart Board teacher-training on all aspects of delivering and interacting with live audience on a satellite network.   
One among the many success in the e-learning space has been the advanced tele-education. Hughes Communications India Pvt Ltd is helping premium medical institutions expand their reach and accessibility across India, and already runs its tele-education solutions for renowned medical institutes, aggregating to over 130 remote training centers. This initiative represents a paradigm shift in medical education, as it will dramatically increase the accessibility of knowledge to every corner of the country—employing cost- effective and user-friendly technology platforms.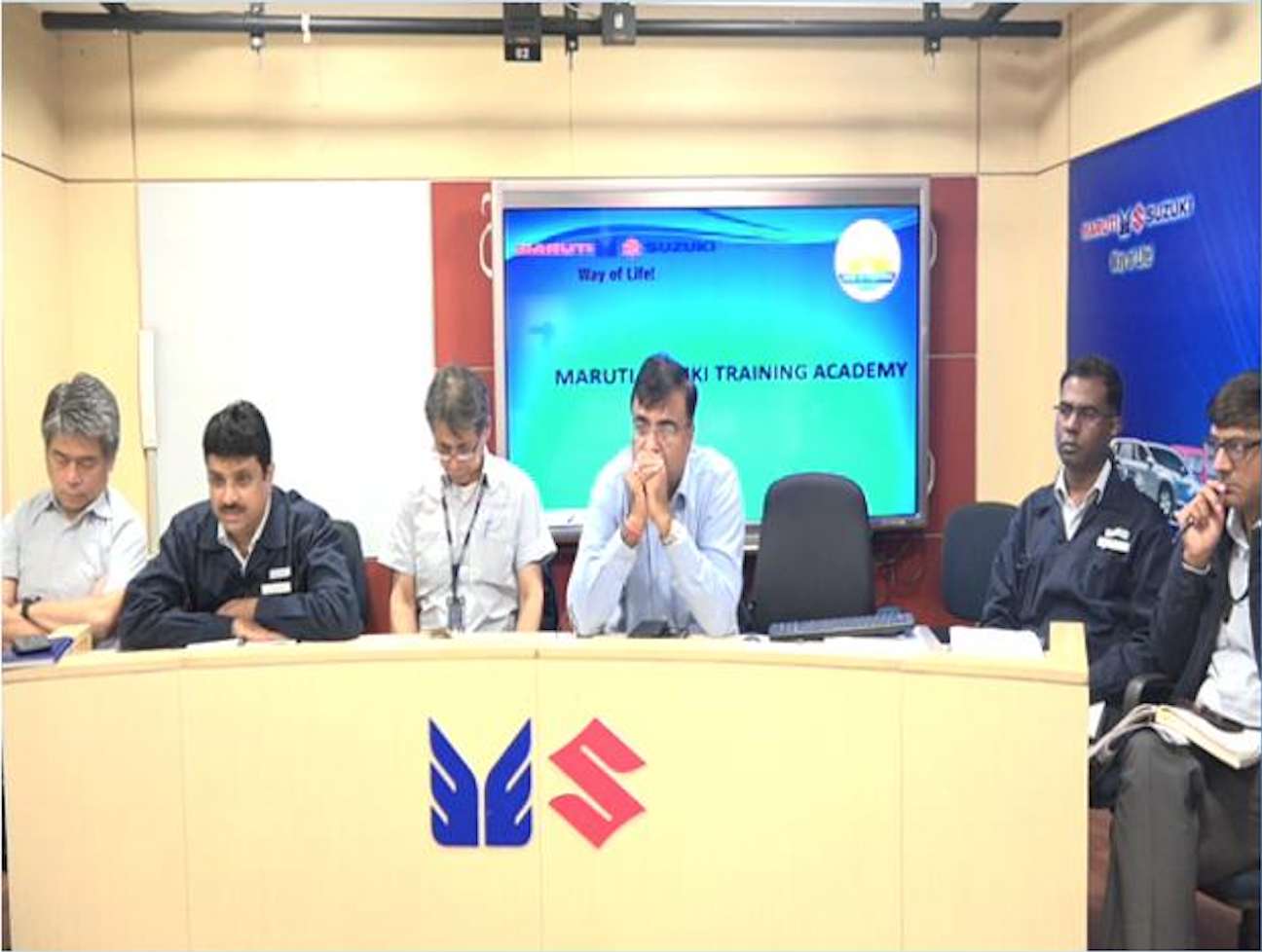 Corporate Training and Partnerships  
Hughes is also invested in empowering professionals and helping corporates with their skills and corporate training modules. Hughes has been actively working with a leading automobile company to invest in technology-based solution in training their huge workforce and the dealer network in a stable, proven, and scalable manner. With an aim to develop a new learning culture for the company, Hughes created a digital training academy for its employees and partners, powered by Hughes Enterprise connectivity solutions. 
The training academy has recorded 99% uptime that ensured real-time engagements without any lag and delay, evolved and expanded into a robust training infrastructure with over 200 classroom sites that span the entire workforce ecosystem – from employees to partners, and is supporting more than 60 branches/ regional offices of the automobile major. 
Enabling Quality Education For All 
Over the past few years, Hughes has seen a strong surge in demand for quality education, reskilling of employees by corporates, and government's focus on skill development to digitalize India. A robust internet ecosystem, with a multitude of local and global players, will help online learning make further inroads.
With satellite communications, e-learning is shaping up a strong and feasible path towards extending the reach of education and resources to students across the globe.  Clearly, there is no reason why any student should be left out of the technological possibilities in education. Thanks to satellite technology, the costs have come down so significantly that every student—whether a grade school student or medical student doing a rotation in a remote area—can take full advantage of bandwidth provided by broadband satellite systems, opening a world of opportunities.