Banking Solutions
The Banking Challenge
Even though the financial sector is shifting from traditional network to connectivity-based applications, a large segment of the population lacks access to everyday banking and finance capabilities. Majority of this under-served population – about 60% – live in rural India and is neglected by banks in spite of latent demand.
Major concerns contributing to this divide:
High infrastructural cost
Lack of connectivity
Uneven distribution of banking services
What India needs at the hour is to reap the benefits of financial inclusion with various industry and government stakeholders and achieve inclusive development and growth.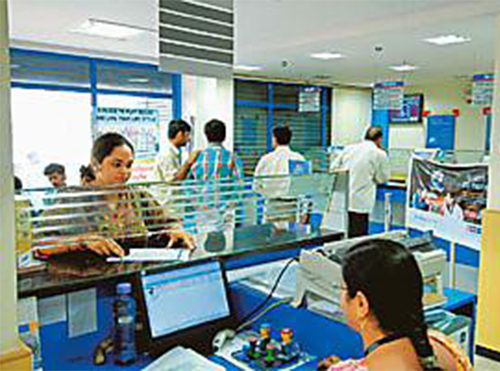 Hughes India Crosses 70,000 VSATs in Banking
Taking your business to newer heights with our best in class, banking solutions. Watch out for Hughes HTS - High Throughput Satellite solutions!
30,000 branches and 40,000 ATMs
Solutions by Hughes
For more than two decades, Hughes Communications India (HCIL) has helped close India's digital and financial divide with fully managed and advanced satellite and terrestrial broadband solutions. High-speed VSAT has proven to be a reliable, cost-effective, and feasible connectivity solution for the banking industry, with 7 in every 10 new branches in India currently commissioned on it. To date, Hughes has recorded exponential growth running to 1,00,000 VSATs powered by banking and holds more than 50% market share in banking in India. It has also lead innovation with cutting-edge technologies including JUPITER™ System and HughesON. 
Today, Hughes is the preferred VSAT service provider to the leading 'brown label' ATM vendors in India including FIS, TSI, TCBIL, Diebold, AGS, Prizm, FSS, and Euronet, powering around 5 billion ATM transactions annually. It is supporting more than 30 nationalized and private banks including SBI, HDFC, ICICI, Canara Bank, and Axis Bank, and providing last mile connectivity to 50,000 branches, 20,000 Railway Recruitment Control Board, and 10,000 co-operative banks. Hughes's recent undertaking is to expand its current scope of broadband and managed services to over 7000 bank branches under NABARD and deploy 3000 solar powered VSATs for financial inclusion.
Hughes has also successfully executed a large portion of the Ministry of Finance (MoF) projects and is at the forefront in helping fulfill Prime Minister Narendra Modi's Jan Dhan Yojana mission, to ensure that almost every Indian across rural India has access to banking and financial services.It is also powering one of the largest outsourcing deals in the Indian financial sector for installing and managing a total of 63,000 offsite and onsite ATMs across urban and rural areas.
As part of its core banking solution strategy, Hughes is not only addressing different banking networks in India but has also successfully optimized solutions for different CBS software and unique implementation of end to end IPsec over VSAT. Due to its unique and flexible bandwidth modeling, Hughes has become the chosen service provider bringing connectivity to the farthest corners of the country and propelling India into a digital and financially inclusive economy.