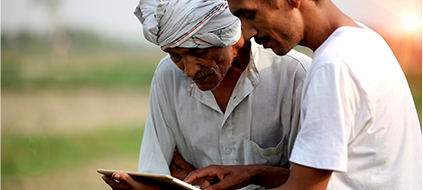 In India, as in many countries around the world, several major government initiatives have clearly pointed to the need for more infrastructure to establish and support a connected government. "Digital India" was formed as the Government of India's flagship program to transform the country into a digitally empowered society and knowledge economy. The backbone for Digital India is the "BharatNet" network being created by Bharat Broadband Nigam Limited (BBNL) and its partner the Telecommunications Consultants India Ltd (TCIL). BBNL and TCIL recently selected Hughes India to provide satellite broadband connectivity to thousands of rural villages.
Connecting Gram Panchayats
For this award, Hughes India is providing high-speed satellite connectivity to 5,000 remote Gram Panchayats or village and small-town councils. These towns are located in northeastern states, including Manipur, Meghalaya, Tripura, Mizoram and Arunachal Pradesh, as well as the Galwan Valley in Eastern Ladakh—places that lack terrestrial connectivity, such as fiber or cable. They are being connected using capacity from ISRO's GSAT-19 and GSAT-11 satellites and Hughes JUPITER™ System gateways and solar-powered terminals. Hughes India is installing the equipment at each site and managing the service.
Many Gram Panchayats are not only remote but also located in areas of inhospitable terrain. Hughes install teams have encountered a range of challenges, from a lack of roads to high elevation and low oxygen. Each time they persevere, they succeed at linking these regions to the world's most advanced VSAT platform and JUPITER System service. That often prompts an audible cheer, because team members know that many Gram Panchayat residents will be accessing digital services for the very first time.
A Well-Connected Nation
"As the most widely deployed satellite ground platform in the world, the JUPITER System will deliver reliable and highly efficient service, introducing more people across rural India to high-speed internet connectivity, enabling significant economic participation and social inclusion," said Partho Banerjee, president and managing director, Hughes India. "Satellite broadband will make it possible for workers at these village offices to send and receive email, complete administrative tasks—such as notifying farmers of seed purchase programs—and communicate with the federal government."
A well-connected nation is a prerequisite for the Digital India initiative. Once these thousands of remote Gram Panchayats are connected through high-speed satellite Internet, the country will have made great progress in bridging the digital divide, improving the quality of life for citizens and providing access to innumerable opportunities.
For more about how Hughes is helping to connect India's Gram Panchayats, watch this video.