Shivaji Chatterjee
President and Managing Director
Hughes Communications India Private Limited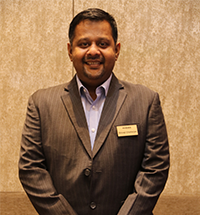 Shivaji Chatterjee is President and Managing Director - Hughes Communications India Private Limited.
He is a Gold medalist in Computer engineering from Pune University. Subsequently, he did his post graduation in Marketing from NMIMS in Mumbai.
In a career spanning a total of over 27 years, he has been with Hughes for the past 25 years during which he has won several Business and Sales & Marketing accolades. He has been felicitated as the International Marketing Person of the Year at Hughes USA multiple times and was also awarded "Hughes CEO's Honor Award" – a very special Hughes global recognition.
In the leadership role, he has spearheaded many achievements for Hughes and for the Satellite industry in India. His areas of expertise include satellite communications, broadband networking, managed services and business solutions – across diverse industry segments with many firsts.
Contact Details
+91-9811004121 (Mobile)
+91-124-7132547 (Landline)
Off